100% Implementation Project Success
We're proud that 100% of our implementation projects have gone into production since our company's founding in 2005. To ensure your ongoing success, we offer annual support plans and continuous improvement services.
Annual Support Plans
We're available 24/7/365 to help whenever you need us. Your annual maintenance and subscription fees automatically cover unlimited incidents to all your DevonWay software, and we offer support plans to cover non-incident requests and enhancements.
Silver-level support is included at no cost for all customers. Gold and Platinum plans offer advantages such as more support requests per period, shorter response times, and a lower Professional Services rate. Please contact us for details on our support and maintenance policies.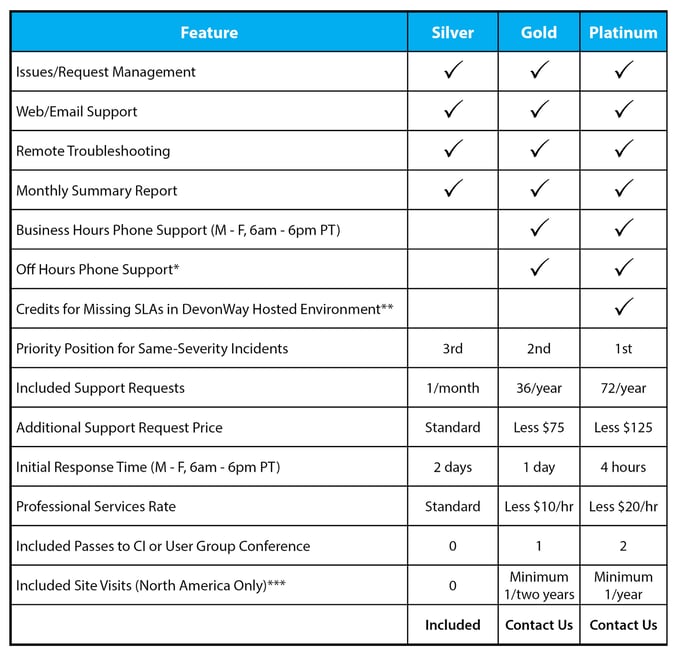 * Each Off-hours phone support deducts two support requests.
** For Platinum Support customers, DevonWay warrants that its hosted environment will be available 99.9% of the time, 24/7/365, calculated on a quarterly basis. Covered downtimes are exclusive of scheduled maintenance communicated ahead of time (typically 2 hours per quarter, but may vary due to security-related or other important maintenance), non-environmental errors such as application configuration changes, unavailability lasting less than 15 minutes or due to factors outside DevonWay's control, and events where the majority of users can still log on and view data. For further details, including financial remedies for missed SLAs, please reference your Master Service Agreement or Contact us.
*** A site visit is a 1- or 2-day visit from a DevonWay customer success representative to discuss ongoing support and improvement opportunities, meet with end-users, and provide free training as time allows.
Continuous Improvement Services
Market pressures, regulations, and competitive landscapes are constantly changing, so the software requirements you had yesterday will not be the same as your requirements tomorrow. For changes that go beyond what you can accomplish with your support plan, we encourage you to allocate a Continuous Improvement budget that you can draw from as needed. Readily available funds, coupled with our ability to quickly implement application changes (many times in hours or days), means your applications will stay current with your needs. You may set aside as small or as large a budget as you wish, and we will simply send detailed monthly invoices as we complete work you request and approve.
For more information on how to make sure your software stays current with your needs, please contact us.