Pipeline Safety Management
The fastest, smartest route to ongoing pipeline safety
SMS software specifically for RP 1173
DevonWay Pipeline Safety Management software helps pipeline operators quickly and efficiently implement and manage NTSB/API Recommended Practice (RP) 1173. DevonWay Pipeline Safety Management is the fastest, smartest route to ongoing pipeline safety.
Talk to an Expert
Avoid costly disasters
In 2010, a pipeline rupture near Marshall, MI leaked 840,000 of gallons of crude oil and caused nearly $1.5 billion in damage. In 2016, the pipeline owner reached a $177 million settlement with the US Environmental Protection Agency and agreed to spend $110 million on prevention measures.
In response, the American Petroleum Institute (API) developed RP 1173 detailing safety management system (SMS) best practices and roadmap. (See www.pipelinesms.org.)
DevonWay responded with SMS software specifically for pipeline operators, and we partnered with one of the largest US utilities to keep customers, communities, and workers safe.
DevonWay is a member of the American Gas Association.
Implement RP 1173 the smart way
The API recommends a phased approach to implementing Pipeline Safety SMS. DevonWay software supports you wherever you are in your Pipeline Safety SMS journey.
DevonWay Pipeline Safety Management includes Audits and Assessments, Corrective and Preventive Actions, Document Management, Equipment Calibration, and core SMS components. Related DevonWay products snap in when you're ready for full support of the recommended Plan-Do-Check-Act Cycle. DevonWay Pipeline Safety Management reveals insights from data so you can spot trends, take action, and engage your workforce every step of the way.
Watch the webinar: New Approaches to Pipeline Safety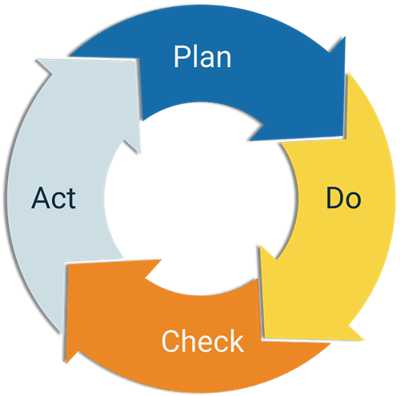 Plan-Do-Check-Act
The American Petroleum Institute recommends Plan-Do-Check-Act (PDCA), an iterative method for managing and continuously improving pipeline safety.
DevonWay Pipeline Safety Management is built on a foundation of continuous improvement and pipeline-safety best practices. It helps you proactively manage change, mitigate risks, and give stakeholders visibility.
Get a Demo
Roadmap to Safety