Organization-wide Participation
Corrective and Preventive Actions are at the center of any complete Quality Management System. They can stem from incidents, nonconformances, inspections, audits, complaints, observations, and more – involving many different stakeholders across various processes. An effective CAPA solution must promote organization-wide participation for those who may need to submit issues, investigate causes, or extract data.
DevonWay Corrective and Preventive Actions provides a closed-loop continuous improvement solution that empowers everyone from the field to the office to participate in the process. The desktop browser application uses familiar UI metaphors that are easy to use, minimizing training and change management. The DevonWay mobile app has an intuitive interface that allows users to capture issues on the spot without a network connection, and includes activity streams that gets users information they need in real-time. Supervisors can set up trigger-based alerts and ad-hoc reports to keep defined stakeholders informed. And with a usage-based pricing model, you have the flexibility to scale as needed.
Tailor to Your Needs
Every CAPA process is different – for example, your business may or may not require an in-depth root-cause analysis. With DevonWay Corrective and Preventive Actions, our team can tailor the workflow to your unique business rules without having to write code, so you can get up and running as fast as possible. Change management is made easy with constant platform updates and with backwards compatibility, so you can ensure your system always works for you as your processes evolve.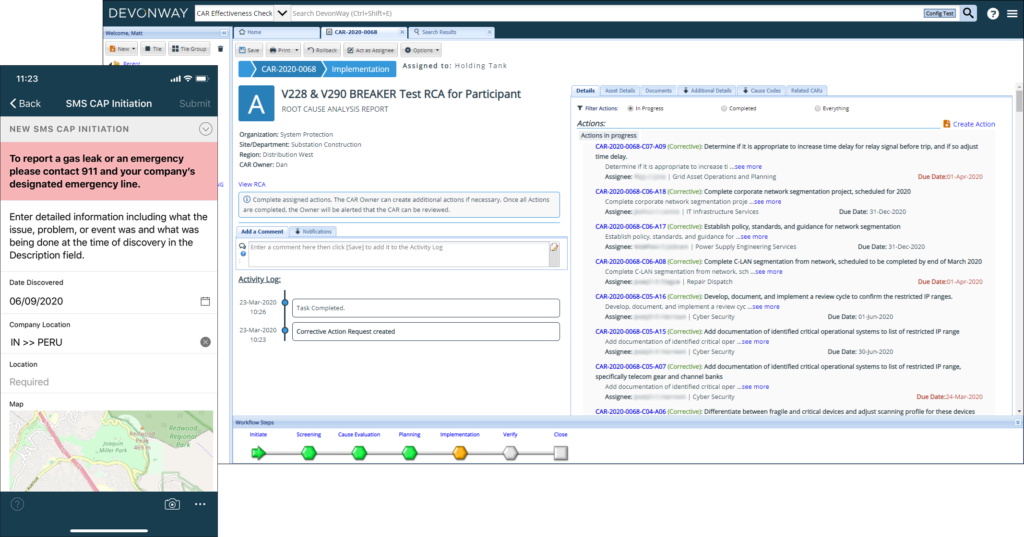 ---
"This software had been developed to meet every need of a Corrective Action Program and continues to evolve and improve. The versatility to customize it to meet specific project needs is quite impressive."
– Jill, CAS Senior Specialist