ESG and sustainable initiatives and practices continue to rise as a priority for organizations, investors, and consumers, not only in the United States but throughout the world. And as environmental, social and governance (ESG) regulations are becoming more defined, organizations are analyzing and prioritizing the best way to meet these new standards – and planning for how to improve their own impact over time.
But where should an organization start when it comes to planning their ESG and sustainability strategy? What are other organizations prioritizing, and what's getting in their way? See what sustainability leaders shared with experts and what these ESG data trends might mean for you.
Trends in ESG in doing business
With ESG proposals in the works in the United States and around the globe, it's a new frontier for organizations as these standards are changing how companies can and should do business.
"The ESG and sustainability landscape is rapidly evolving," said Kim Knickle, a research director in ESG and sustainability. She went on to share:
"Stakeholder and market pressure are driving firms to integrate ESG considerations into their business strategy and make bold public commitments. Geopolitical and extreme weather events are compelling firms to prioritize business resilience and risk management, as organizations, and their suppliers, adapt to a rapidly changing world."
Companies will need to be accountable in these areas, including demonstrating how they are reducing their negative environmental impacts; how they manage their relationship with employees, suppliers, customers and community; and how the company manages itself, including through executive pay and compliance with regulations and standards.
Drivers in ESG commitments
In 2022, independent research firm Verdantix surveyed 400 sustainability leaders about their thoughts, priorities and plans when it comes to ESG and sustainability in their organization.
To start, leaders were asked how significant certain drivers had been in influencing their firm's commitment to ESG and sustainability issues. Feedback from the survey showed that 23% of the sustainability leaders interviewed said their CEO's vision for sustainability was the most significant driver in determining firms' ESG and sustainability commitment.
Other findings included:
22% noted reputational pressure as the top influencer, tied with new ESG disclosure rules, also at 22%.
10% cited investor pressure.
9% noted customer pressure as the number one driver.
6% said competitor pressure was the top driver.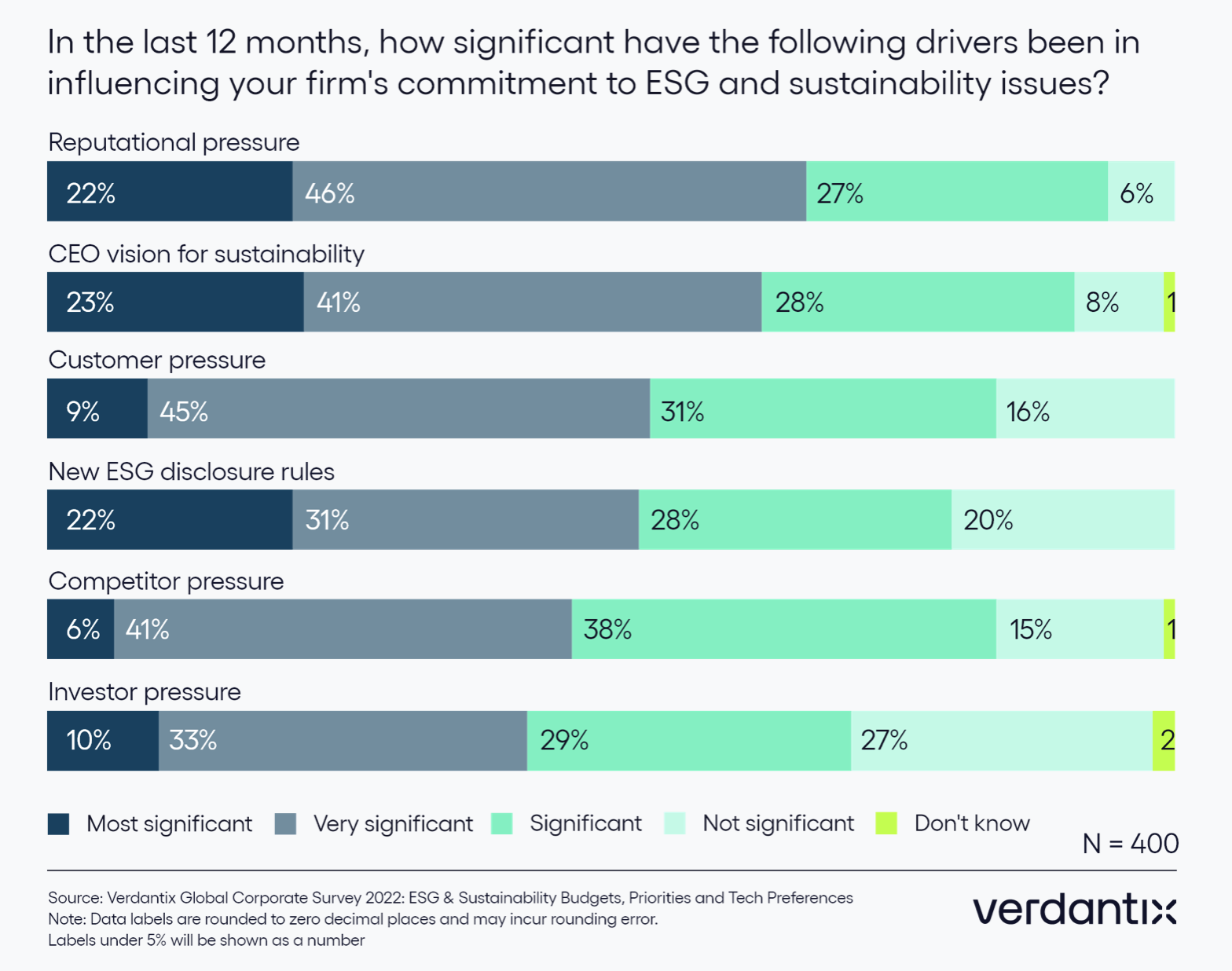 Top sustainability initiatives
In the same survey, when leaders were asked what the number one sustainability initiative to receive funding over the next two years would be, improving supply chain sustainability metrics came out on top. A quarter of the 400 sustainability leaders interviewed said this was their number one priority, and 37% noted it as a high priority, as they seek to quantify and improve performance and minimize the risks deriving from a supply chain.
The other top priorities for the near-future ranked as following:
22% - analysis of climate change risk to physical assets
19% - enhancing ESG scores with ratings agencies
13% - strengthening governance performance metrics
11% - upgrading environmental management capabilities
5% - boosting social performance metrics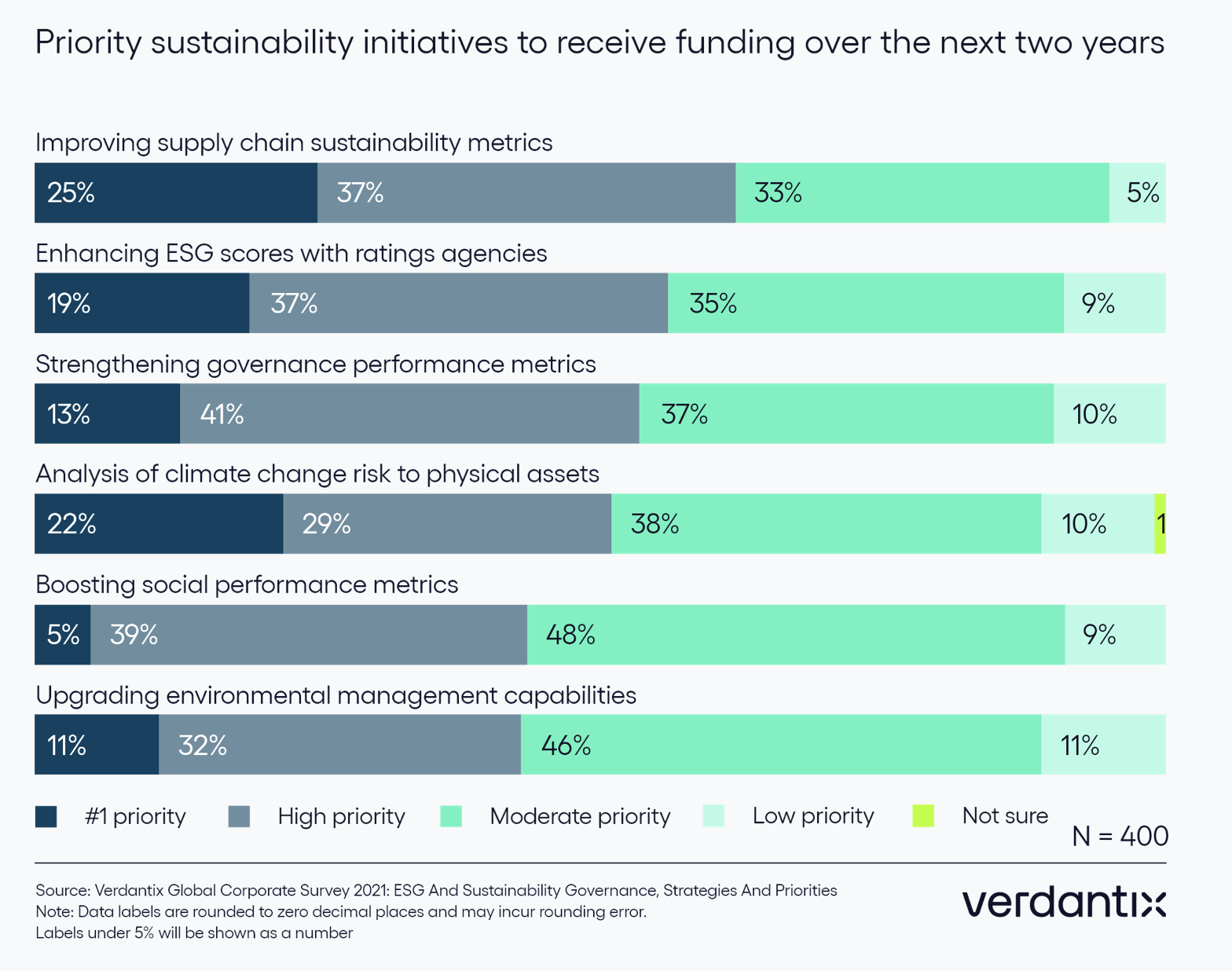 Barriers to improving ESG data
The complexity of ESG data management is relentlessly increasing, and the speed at which information needs to be provided is moving from years to days.
Sustainability leaders surveyed were asked "How significant is the following barrier to improving your firm's ESG and sustainability data: 'ESG data are too dispersed and complex to aggregate.'?" The majority of leaders said this barrier significantly impacts their firm's ability to improve ESG and sustainability data, with 94% listing it as most significant, very significant or significant. Only 6% said this was not a significant barrier.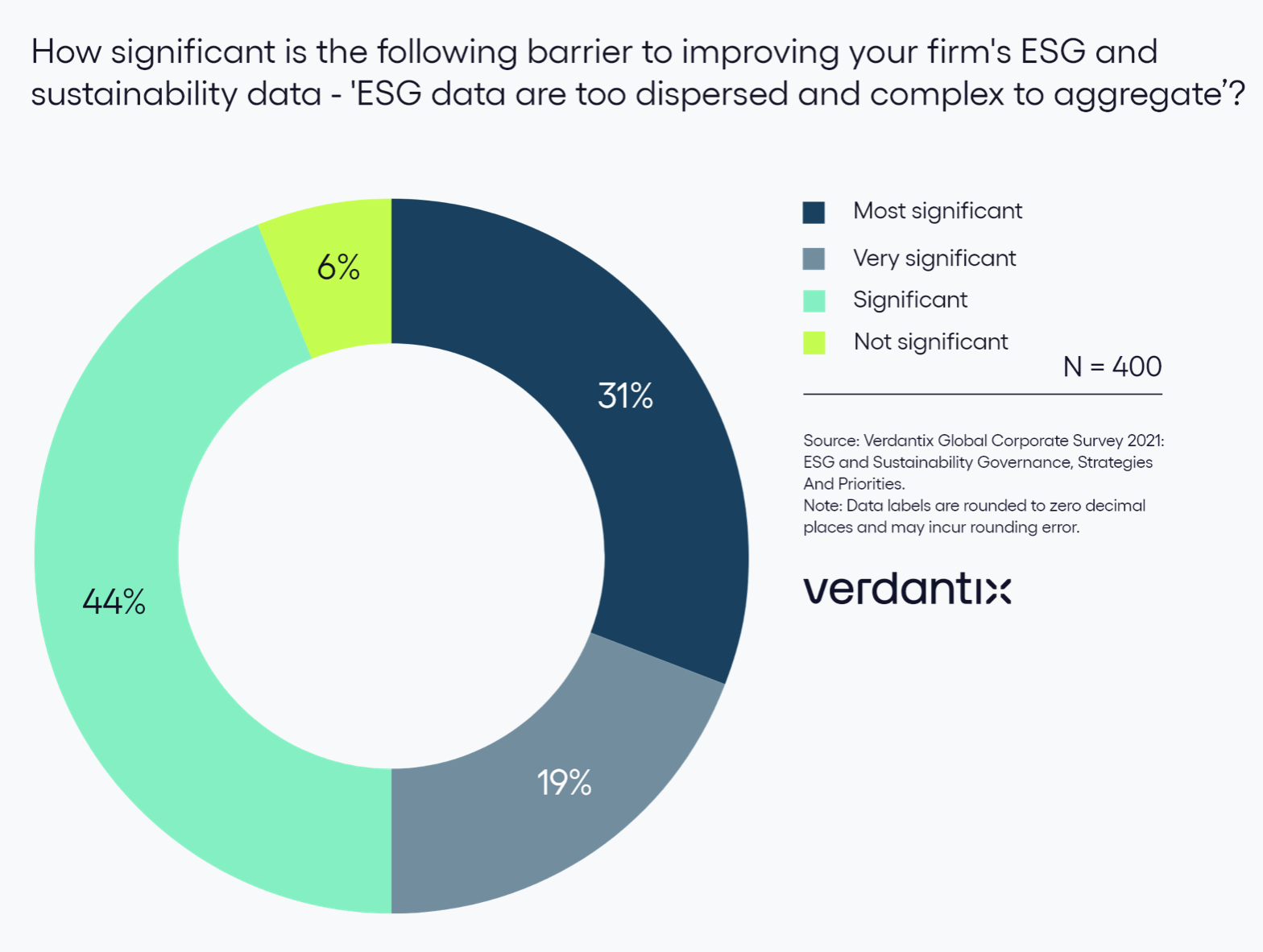 What the ESG survey data tells us
In looking at the survey data, it's clear ESG and sustainability initiatives are a C-suite priority, and that organizations are focusing on their supply chain as well as climate change risks to start moving the needle and making a difference with their own ESG goals. Yet how they track this data is surfacing as a significant barrier.
"The scope and complexity of information that needs to be disclosed is expanding and the pressure for better quality and availability of ESG data is being felt acutely," said Knickle. "To keep up with evolving requirements, maintain a competitive position and meet stakeholder demands, firms will need to invest in technology to elevate their position."
As ESG and sustainability continue to grow in priority across organizations, finding the right technology to support the data management and elevate reporting capabilities will become more imperative, for both meeting standards and reaching goals.
How DevonWay can help
DevonWay – a longtime and leading provider of Environmental Health & Safety, Asset Management, Quality Management, and Workforce Management solutions to regulated industries – now offers an ESG & Sustainability Solution in its suite, enabling companies to go beyond ESG reporting and implement effective performance initiatives to achieve their ESG goals.
See how DevonWay can support your organization in reaching its ESG goals. Request a demo today to understand how we can support you in keeping your ESG goals top-of-mind and within reach.