4 min read
DevonWay User Group Summit 2023: Highlights & Key Takeaways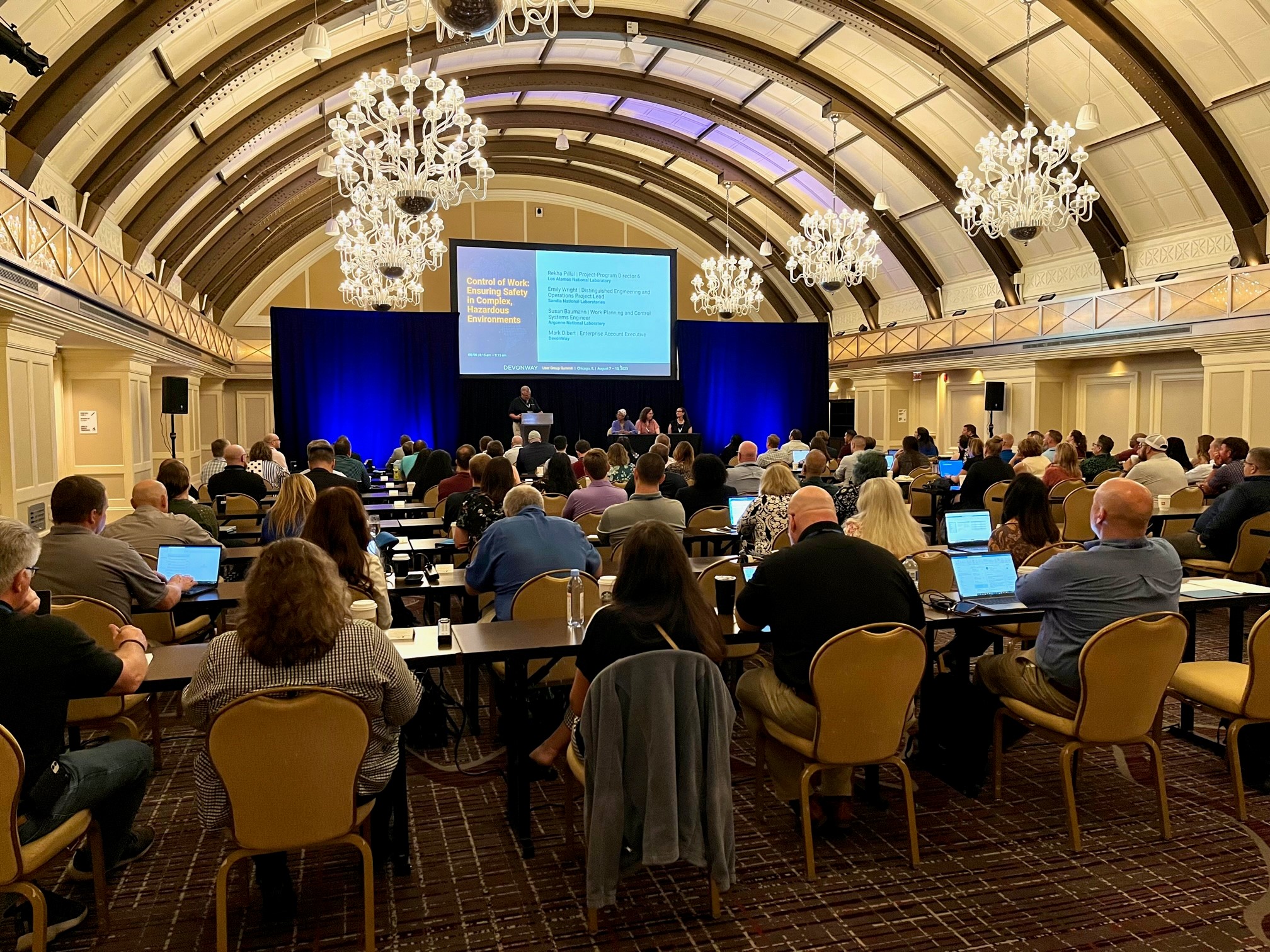 Earlier this August, we were thrilled to host the 2023 DevonWay User Group Summit at the beautiful JW Marriott in downtown Chicago. Thank you to everyone who attended and made the event such a success!
This was the largest conference we've ever had, with more than 125 attendees from national labs, engineering firms, biotech companies, manufacturers, utilities, pipeline operators, and more. While their roles varied – from DevonWay administrators, users, subject-matter experts, business owners and beyond – everyone came together to learn from and engage with 18 sessions designed specifically for those in high-reliability organizations.
Additionally, for the first time, we welcomed DevonWay partners, including representatives from ERM, Enhesa, Huco Consulting, Longenecker & Associates, Privoro, Rombit, SureSkills, Trinity Consultants, and YuzeData. It was exciting to come together as a growing community!
And the impact of the event was apparent to many, with at least one attendee specifically calling it "the best conference I've ever been to."
For those who weren't able to attend, we wanted to share highlights and key takeaways from some of our top sessions.
How to Use Miramar to Create Visualizations & Increase User Adoption
There were two valuable sessions on Miramar, DevonWay's newest user interface.
During the first session, BI 2.0: Visualizations in Miramar, Mark Lierley (DevonWay's Director of Training and Communications) gave an in-depth demonstration of how to create visualizations and shortcuts to get the information you need at a glance. Here are just a few of the many examples:
Create a report to show what is coming, due by month, to help you better plan your work.
Create a visualization on your dashboard that shows which quarter you should focus your efforts to get caught up on backlogged work.
Customize your dashboard with specific components to streamline and personalize how you do work.
In the second session, Migrating to Miramar, Ryan Jackson (Data Analytics & Visualizations Lead at Idaho National Laboratory) spoke about how Miramar significantly reduced the amount of required training at the lab.
"It's much easier for a new, inexperienced user to come in and find what they need," said Jackson. His biggest piece of advice was that communication is key to adoption success – communicate early and frequently!
Managing Change & Transformation
In a fireside chat, Aaron Uddin (Partner, Global Lead of Change and Transformation at ERM) discussed the importance of a people-centric change-management program and how teams can humanize a company's transformation journey.
Organizations are facing vast change (and fast) as they commit to evolving ESG standards, net-zero initiatives, and advances in technology. Now, more than ever, an organization's success hinges on its ability to translate change to new mindsets and behaviors. Here are a few of the most pressing questions – and answers – from this session:
When is the right time to engage Change & Transformation during an implementation process?

Ideally from the start – you can't spend enough time getting it right. Like the old adage: measure twice, cut once.

What are the cornerstones of a good change management program?

Know your stakeholders; who do you need to get on board and what are their priorities?
Figure out how ready your organization is for change. Assess its maturity, and know the gaps and potential resistance points.

What are best practices to build technology adoption?

Build central support, and leverage existing networks and infrastructure in the business.
Having a good communication plan to accompany the change.
Create the appropriate literacy among your staff; don't assume everyone is starting at the same level. Build progressive understanding.

Once you have elements of a C&T program established, how do you make sure it "sticks"?

Create mechanisms to keep management in the loop.
Build feedback loops among staff throughout the organization.
Control of Work: Ensuring Safety in Complex, Hazardous Environments
In this panel discussion, three panelists discussed challenges and best practices for control of work, also known as work planning and control:
Rekha Pillai, Project-Program Director 6, Los Alamos National Laboratory
Emily Wright, Engineering Program/Project Lead, Sandia National Laboratories
Susan Baumann, Work Planning and Control Systems Engineer, Argonne National Laboratory
These experts had engaging advice when it comes to looking at an organization's control of work, including these top tips:
Spend sufficient time to understand and accurately model your processes, which is key to any successful digital transformation and workflow implementation.
Run pilots and/or Proof of Concept scenarios to make sure you have thoroughly tested your system design, workflows, and requirements.
Take time to identify KPIs and centralize as much of your data as possible to streamline work processes and value stream maps.
Never underestimate the importance of change management and communicating early in the process to accurately manage expectations! When in doubt, over-communicate and constantly ask for feedback to continually maintain buy-in on the change and implementation.
Thank you again to everyone who joined the DevonWay User Group Summit. Your participation, engagement, questions, comments, and thoughtful discussions made the event impactful for everyone in attendance, not least of which the DevonWay team members who had the privilege of interacting with and learning from you in person.
Stay connected for future events
In addition to our annual summit, DevonWay hosts a variety of events throughout the year. Make sure you don't miss out! Join our community and subscribe to DevonWay to stay up to date on news, events and webinars, and technology.