Increase Transparency
When observations, inspections, actions, and assignments live in siloed systems, it's nearly impossible to gain insight into trends and make major improvements toward operational excellence and improved safety.
With DevonWay Inspections, everyone from the inspector, to the manager, and every stakeholder in between has visibility (as allowed by the organization) into the inspection process and its outcomes. That transparency helps to communicate management expectations and highlight areas for improvement that may have otherwise gone unnoticed. Additionally, through configurable inspection activity types, organizations don't have to try to fit into an inspection process that does not align with their business needs.
Align Inspections to How You Do Business
Many times, inspections are performed based on generic industry templates that may or may not be most appropriate for your business. This forces process owners to fall back on Word, Excel, or homegrown systems that don't scale and hinder data-driven decisions.
DevonWay Inspections enables operational flexibility with configurable templates that support unlimited variations of inspections. Additionally, native integration with Corrective and Preventive Actions means that inspections lead to actionable results quickly and efficiently.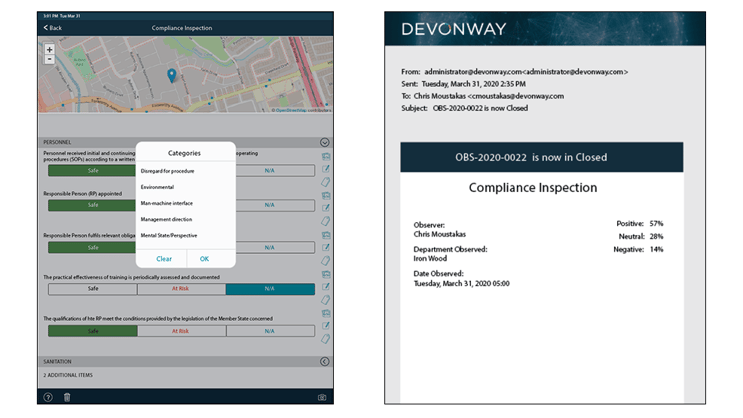 ---
With DevonWay's Inspections solution, everyone from the inspector, to the manager, to every stakeholder in between has visibility (as allowed by the organization) into the inspection process and its outcome