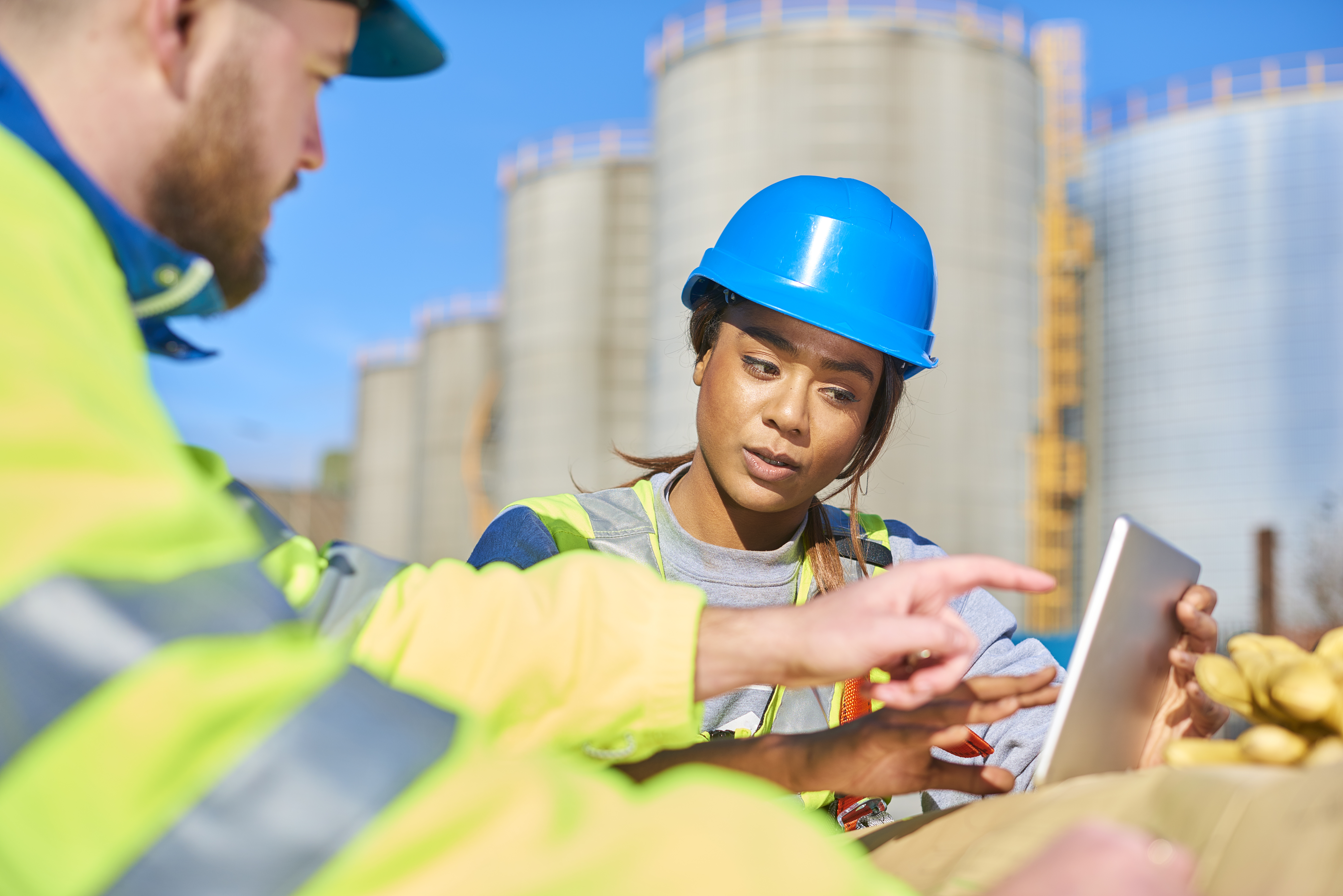 New Mobile Procedures
December 18, 2020 | Ashmi Wadhwani
The DevonWay 1.27 Mobile release is now available in the iOS and Android app stores (for a Windows version, please contact us). This release includes significant enhancements to Mobile Procedures.
Mobile Procedures enables customers to transition from paper-based standard operating procedures to a fully digital, mobile-first environment that supports field validations, smart routing, place keeping, quality checks, multimedia playback and data capture, barcode scanning, image annotations, and much more.
This blog post covers release highlights. For more details, see the official release notes in the Documentation Center. For more information or a demo that shows how you can use Mobile Procedures with your DevonWay solutions, please contact us.
Navigate Easily With a Table of Contents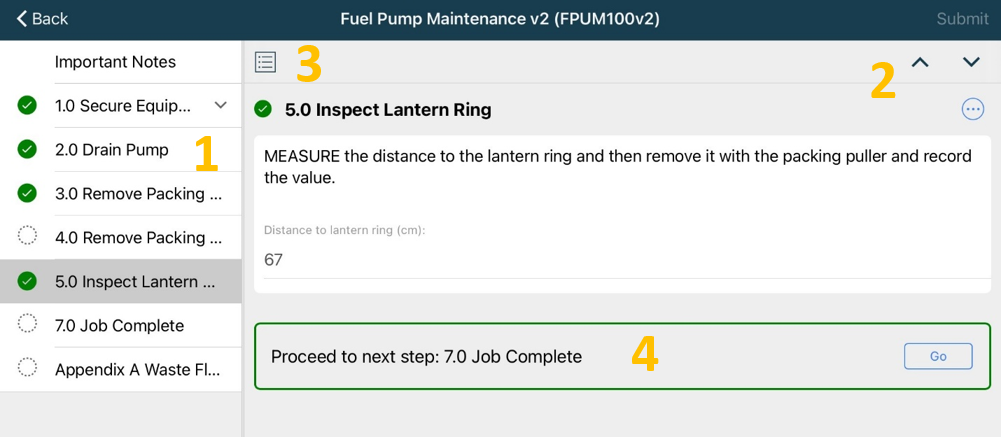 Mobile Procedures now features a table of contents (1) that gives users an overview of the procedure. A procedure is comprised of fields that present and capture information like numeric measurements, barcode scans, images, plain text, and much more. Fields are then organized into sequential steps or standalone groups.
Users can click on any table of contents element to view the steps and fields within it, or they can navigate through the procedure by tapping the up and down arrows on the top right (2).
When all steps on a page are complete, the app displays a "Proceed to next step" prompt so the user can easily navigate there (4). (The next step may not be on the immediate next page depending on any branching logic that has been triggered.)
The table of contents also gives a status overview: an empty or filled-in checkbox icon indicates if a page is completed.
Users can collapse the table of contents anytime by tapping on the show/hide icon (3).
Set Hold Points for Quality Checks
Many standard operating procedures in high-reliability industries require quality checks or other tasks to be performed before subsequent steps in the procedure can be executed. To satisfy this requirement, DevonWay Mobile Procedure authors can now specify hold points for specific steps.
During execution, if hold point requirements are not met, a red instructional message displays that clearly notifies the user what they need to do to continue with the procedure.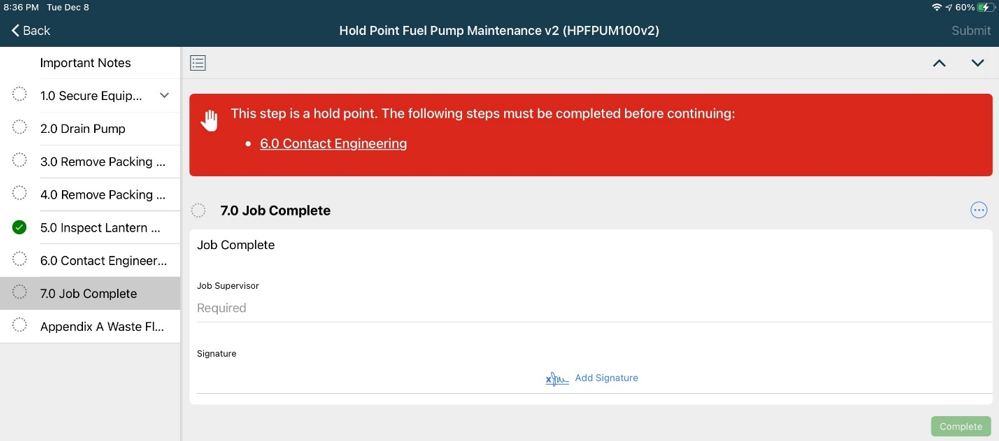 Mark Steps Not Applicable
Sometimes, it doesn't make sense to perform a step that contains a required field. In those cases, users can mark the step as Not Applicable (N/A) and include a comment with additional information. A step marked as N/A displays as completed.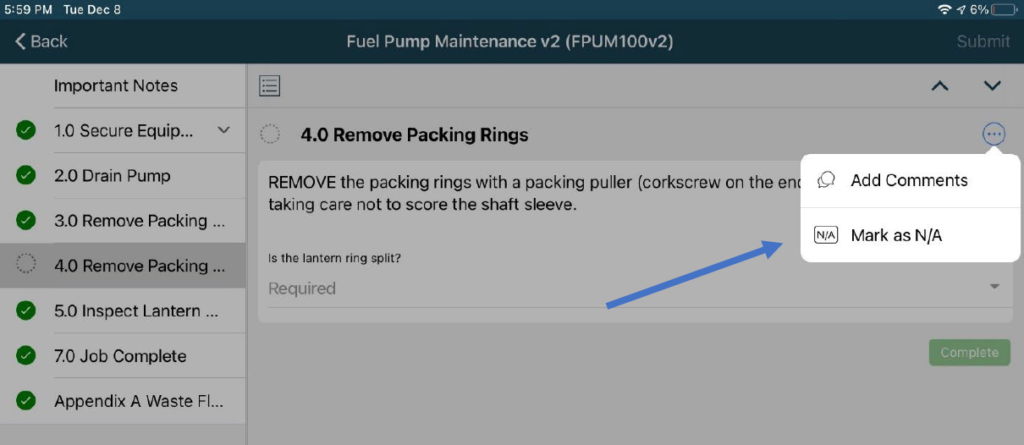 Force Sequential Execution
Some procedures require that steps be completed in the exact order they are written. Mobile Procedure authors can set the sequential completion attribute to require that the prior step be completed before starting the next step.
Attach and Annotate Field-Level Photos
Users can attach photos (.jpg, .png, and .gif) from the device camera or photo library to individual fields.

After an image is associated with a field, users can tap and edit it with annotations to add important visual context and notes.
Sketch
In addition to images, users can create sketches from a blank canvas and attach them to individual fields. Drawing tools are easy to use, as shown above.
Use Electronic Signatures
Signature fields are now more user-friendly, and the app allows a field to have multiple signatures. Users can select pen color, save signatures, and record and display the signed date.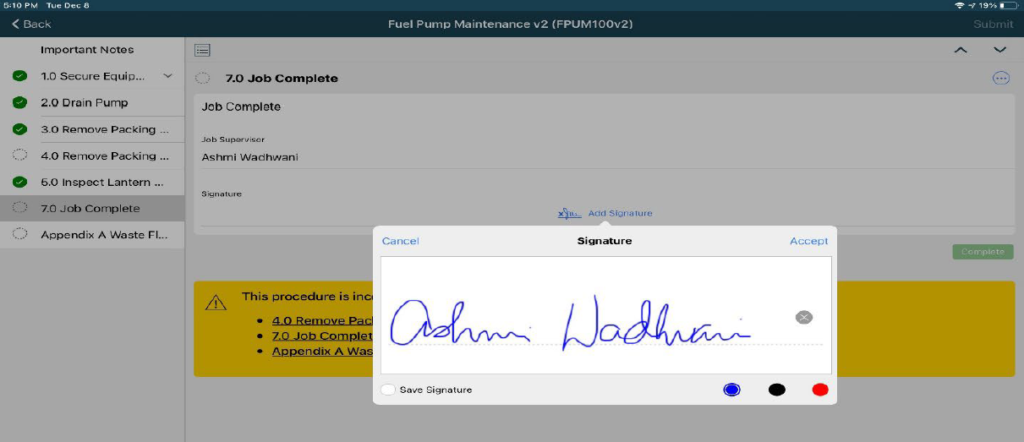 Explicitly Start and Complete Steps (Place-Keeping)
Mobile Procedures now support place-keeping. Place-keeping avoids quality and safety issues related to procedure adherence by helping users know where they left off if they are called away from what they are working on. Users tap a [Start] button to explicitly indicate that they are starting a step, and they tap a [Complete] button (visible only when a step is in progress) to indicate that they have completed the step.
Get Notification of Incomplete Steps
If users try to submit an incomplete procedure, the app clearly notifies them that there is work left to be done. This notification message displays after the last step of the procedure, and it includes links so users can easily navigate to the incomplete steps.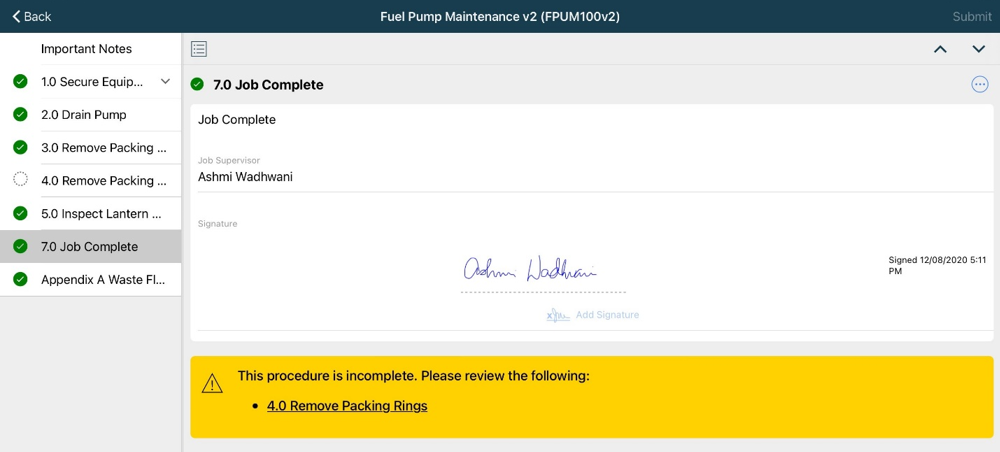 Add and View Comments
Users can add comments to any step or group by clicking on the menu button in the upper right corner of each step or group. A green badge displays the number of comments, as shown below.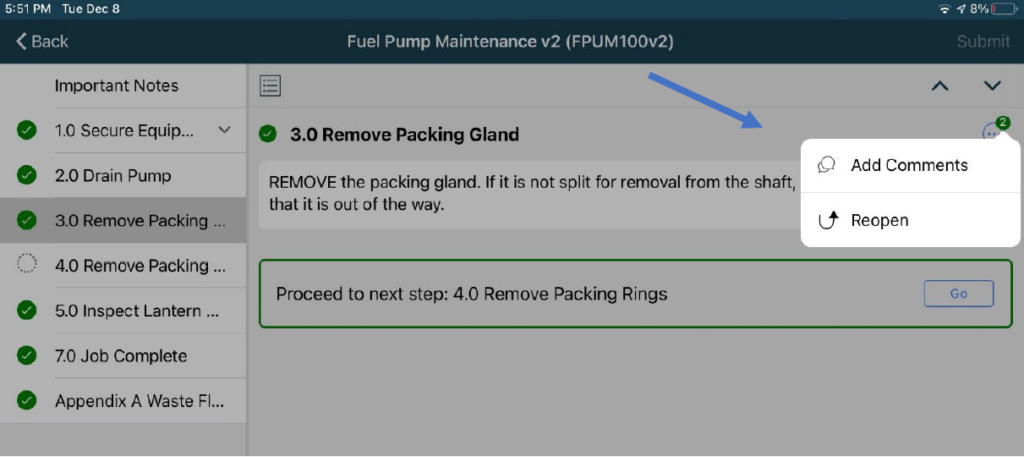 We'd Love Your Feedback
To see the complete list of Mobile 1.27 new features and fixes, please read the official release notes at the Documentation Center. We welcome your feedback on the new features. Please contact us with questions or to request a demo.