4 min read
Understanding the Importance of Industrial Hygiene Software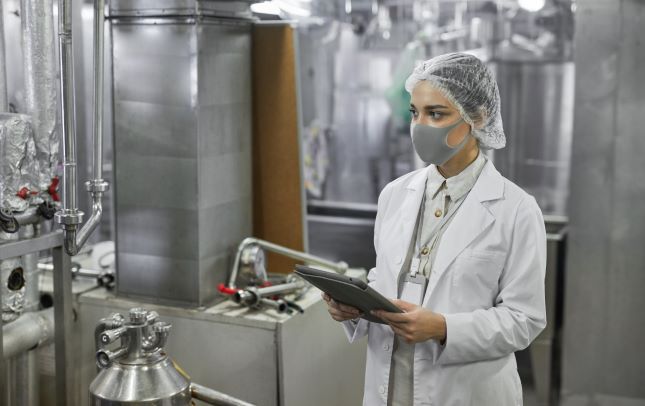 As part of offering a safe and healthy work environment, organizations must monitor the workspace's industrial hygiene, including workplace hazards and exposures that could harm employees. Although there has been awareness of these environmental factors and how they impact workers since antiquity, the way to track exposure and monitor controls has modernized along with the times.
After the COVID-19 outbreak and the impacts it had on workspaces, keeping tabs on industrial hygiene has never been more important. With that in mind, experts predict the industrial hygiene software market will grow to upward of $400 million by 2025. Now more than ever, organizations must use industrial hygiene software to protect employees today and stay competitive into the future.
What is industrial hygiene?
Before understanding why industrial hygiene software is critical to industries today, it's important to know what industrial hygiene is and how it impacts workplaces. According to the Occupational Safety and Health Administration (OSHA), industrial hygiene is defined as "that science and art devoted to the anticipation, recognition, evaluation, and control of those environmental factors or stresses arising in or from the workplace, which may cause sickness, impaired health and well-being, or significant discomfort among workers or among the citizens of the community." In short, industrial hygiene is the awareness of the safety of an environment in relation to people's health.
The history of tracking and supporting positive industrial hygiene goes back as far as the times of Hippocrates in the fourth century BC, when he made note of lead toxicity in the mining industry. In Roman times, Pliny the Elder created face masks from animal bladders to protect workers from zinc and sulfur. In the 1700s, Ulrich Ellenborg created a pamphlet about gold miners' injuries and occupational disease. By the 1900s, the United States began establishing industrial hygiene programs to protect workers across the country.
Today, nearly every employer must enact programs in support of this kind of safety, which is monitored and regulated by OSHA. In fact, over 40% of OSHA compliance officers are industrial hygienists.
Types of hazards to monitor
On-the-job hazards vary by industry, but may include:
Air contaminants: Typically gas or vapors, these usually are composed of fumes, dust, aerosols, mist and fibers in the air.
Chemical hazards: These chemical compounds can come in a variety of forms, from liquids to gasses to vapors, and can cause toxic effects through inhalation, absorption or ingestion.
Biological hazards: Often found in industries that handle animals or plants, biological hazards may be viruses, bacteria, fungi or other living things that could cause infection.
Physical hazards: According to OSHA, these include "excessive levels of ionizing and nonionizing electromagnetic radiation, noise, vibration, illumination, and temperature."
Ergonomic hazards: These hazards arise from the way that people move within the workspace and may include how they lift, hold, push, walk or reach.
Importance of industrial hygiene software today
A safe and healthy work environment should always be a top priority – and how well organizations monitor hazards can minimize risk associated with industrial hygiene while also ensuring compliance with regulations and standards.
The COVID-19 outbreak shined a spotlight on the importance of using technology to track industrial hygiene exposure as the pandemic spread throughout workplaces and left many organizations scrambling. Today, what once was considered a "tick-box" to meet compliance, industrial hygiene software has become a top priority for more organizations than ever before.
In the Verdantix article "The New Normal Continues To Have An Impact On Industrial Hygiene And Occupational Health Software (IH/OH) Innovation," experts shared that industrial hygiene software, as well as occupational health software, is in high demand to support better management of worker health and exposure.
"Ongoing market dynamics continue to signal a 'new normal' for IH/OH software vendors who not only have to contend with the rapidly evolving landscape but also have to implement very rapid cycles of product development in a matter of weeks and months instead of years. It signals a new era where innovative technologies supporting the IT infrastructure of IH/OH solutions are no longer 'nice to have' or 'on the road map.'"
Forecast for the future of industrial hygiene software
The future of industrial hygiene is digital, and software to track and manage it is critical to organizations hoping to stay competitive. In a report from independent research firm Verdantix, experts project the global market for industrial hygiene and occupational health software will grow at an annual rate of 10%, rising from about $250 million in 2020 to over $400 million in 2025.
As Verdantix Senior Analyst Bill Pennington shared with the EHS Daily Advisor: "Due to the quick spread and disruptive nature, the COVID-19 outbreak will be a long-term positive factor for demand of IH/OH software. Firms are recognizing the value of innovative software to protect workers from exposure as well as reliably manage worker health and illnesses."
When it comes to protecting employees, staying in-the-know is critical to organizations hoping to stay top-of-market. The need for industrial hygiene software is continuing to grow, and organizations will need to adopt this software to best monitor, track and prevent hazards.
How DevonWay's industrial hygiene software offers an all-in-one solution
At DevonWay, we offer Industrial Hygiene software that helps organizations manage chemical, biological, physical, radiological, and other workplace hazards, so you can minimize occupational health risks and take immediate action as soon as dangerous conditions arise. This typically entails establishing and monitoring significant exposure groups (SEGs) and providing functionality for quantitative and qualitative exposure assessment with statistical analysis, as well as documenting methods of analysis and the secure storage of laboratory results.
Like all DevonWay products, Industrial Hygiene connects seamlessly to your health, safety, and other related processes, all on one secure platform. Learn more about DevonWay's Industrial Hygiene software and how it can support your organization's environmental health and safety goals.