6 min read
DevonWay vs Enablon: Looking for an Alternative to Enablon? Read This!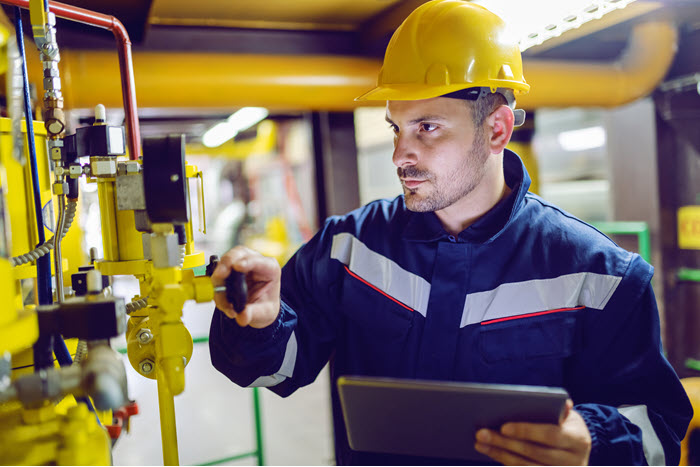 If you are like many leaders in Environmental, Health, and Safety (EHS) management, you are a key driver of digital transformation at your enterprise. You have support for digital transformation with increasing budgets to help you impact data collection and automation across departments. When deciding between EHS software solutions, you want to think first about your enterprise's EHS strategy – specifically, what you need in terms of data collection and reports that will prevent incidents.
Many companies have complex EHS solutions with a mix of in-house and vendor systems interacting together. This comparison looks at usability, diverse functionality, customer support, and value. If you are considering starting a new EHS project or changing your current EHS vendor, we hope this comparison of DevonWay and Enablon, two leading providers of EHS software, will help you find what you need.
DevonWay vs Enablon: Usability
The ease of use category for software has two sides. First, the software needs to be easy for leaders who oversee the EHS processes, and it needs to be easy for team members submitting data from the field. To compare the two EHS vendors, we gathered real customer reviews from G2 and Capterra.
When commenting about DevonWay software, reviewers said:
"Ease of use for both those who input and those who use the input."
"It is extremely important while working in this high pace/use area that the software functions easily for not only the person who oversees the issues but for those working in the field who submit and work through the issues that have been entered in Devonway."
"The interface is very simple and user friendly, even a first-time user can find their way around with little instruction."
When commenting about Enablon software, reviewers said:
"Enablon has a particular logic that needs to be understood by the user before they can actually be proficient with the toolset. I used Enablon as an administrator and the number of queries I would receive from users about how to find information or understand the data stored was quite high, both of these skills should be within reach of basic users. Enablon is an incredibly powerful tool but it needs to be matched with an equally robust and clear basic training and onboarding process for basic users to ensure that they can take full advantage of the system."
"The user interface is not always intuitive and need to look for certain options. Somewhat steep learning curve."
"Little to no training available without enterprise license. It makes sourcing talent difficult and training periods unnecessarily costly."
Another important aspect of ease of use is the mobile access of EHS software apps with both online and offline capabilities. Verdantix has been tracking the adoptions of mobile EHS apps at companies and has seen a sharp increase in the demand for mobile. In 2018, 57% of EHS professionals reported some type of mobile adoption for EHS software at their enterprises. In 2019, this number increased to 87% of companies reporting some type of mobile EHS software on site.
In terms of mobile support for EHS software, both DevonWay and Enablon have robust mobile apps with online/offline capability. Both versions of the DevonWay and Enablon mobile apps include photo upload, voice-to-text, and location mapping. DevonWay goes a step further in the area of mobile capability with an offering that allows users to annotate and markup PDF documents for a more comprehensive mobile experience.
DevonWay vs Enablon: Diverse Functionality
EHS leaders are seeking EHS software solutions that meet their needs while not paying for advanced features that will go unused at their companies. They want to purchase the most functionality they can afford while also purchasing software they can use. They want to purchase systems that meet their exact needs with little retooling.
The core products provided by DevonWay include Incident Management, Accident and Injury Reports, Employee Safety Tracking, GHG Emissions & Sustainability Program Management, Industrial Hygiene, Industrial Safety Events, Mobile Observations, and Pre-Job Briefs. These software products integrate seamlessly with your existing applications or with other DevonWay products like CAPA, Mobile Work Packages, Compliance Tracking and much more. As mentioned previously, DevonWay has rich features like photo upload and voice-to-text features, form creation, and ad hoc reporting tools—all with no coding involved.
DevonWay is known for building software that is highly customizable without coding. The platform is a true no-code environment. Leaders can change a form to meet their specific enterprise requirements, and they can build a report for their dashboard without technical skills. With drag and drop, managers can create visual dashboards showing the trends that matter most to them.
Like DevonWay, Enablon has a complete suite of products, including Incident Management Software, Safety Observations, Job Safety/Job Hazard Analysis, and Action Plan Management. Their software works with other Quality Management and Environmental & Sustainability software.
Enablon's software has rich functionality with search, filtering, reporting, and trending tools. Also, the possibility to customize the software exists; however, making changes is difficult and requires time to reconfigure the software.
Enablon software products are built on the core programming language NABSIC. This older programming language is difficult to code and requires a special skillset, which makes configuring the backend difficult for leaders and for in-house IT departments who need to make changes to the software.
DevonWay vs Enablon: Customer Support
Customer support and user groups are a vital part of the software implementation and development cycle. A critical part of developing software is improving the customer experience. When users become a strong voice in the software design and development process, everyone wins.
DevonWay is known in the marketplace for having premium customer support for its fiercely loyal group of customers. The company was founded on two principles–use your best judgement and delight your customers. DevonWay has dozens of customer reviews on Capterra with a customer service score of 4.9/5.0. Customers said things like:
"Very responsive design team"
"When we have an issue or question, DevonWay is very responsive"
"Large, diverse user base provides timely useful upgrades, keeping the system contemporary"
If you want to see how responsive DevonWay is according to their current customers, check out their reviews on Capterra. DevonWay responded to every review with details about the customers' situations. These customer reviews show how DevonWay acts on their founding principle of delighting their customers. DevonWay also hosts annual user groups meetings that includes training and benchmarking opportunities.
Where DevonWay wins the battle for customer support, Enablon wins for user community. Enablon has a powerful user-community who meets frequently to discuss how to improve the software. Enablon hosts a series of Global SPF (Sustainable Performance Forums) for EHS and IT professionals each year. At these events, EHS professionals learn trends that are shaping EHS, and they learn how their peers are deploying and utilizing software solutions.
DevonWay vs Enablon: Price
DevonWay uses a usage-based pricing model based on the number of records your enterprise uses. You can have as many leaders, team members, and vendors use the software as you like. Companies only pay for what they use.
Enablon pricing begins at $100,000.
Takeaways
The bottom line is that while Enablon offers strong software solutions for complete integration across your enterprise, with a strong user support community, expect the many advantages offered by DevonWay to give you a better EHS customer experience. Below is a summary of the advantages of DevonWay over Enablon:
Your enterprise will use DevonWay more because of the intuitive user interface
DevonWay allows your departments and leaders to make changes to templates, trends, reports, and dashboards without coding or having to contact your IT department
DevonWay is built on a no-code platform that makes it easy to adjust the software over time
DevonWay easily plugs and plays with existing systems across your enterprise
Cost – you pay for what you need
If your enterprise is looking for a complete end-to-end solution, Enablon may seem like an attractive option. With a recent addition of GHG and Industrial Hygiene products, DevonWay offers a complete EHS end-to-end solution with the flexibility to deploy single or multiple EHS modules while containing costs for exactly what you need. Investing in DevonWay is a good long-term investment because you build what you need today, and you can build more in the future while containing costs.
If you have an RFP or upcoming decision to make about an EHS software purchase, you should partner with a software provider who can help you implement a user-friendly, easy to configure, no-code platform that provides you with the best value. Please contact us to request a demo today.
—
Sources:
Verdantix Global EHS Leaders Survey 2017: Budgets, Priorities, and Tech Preferences
Verdantix Global EHS Leaders Survey 2018: Budgets, Priorities, and Tech Preferences